ALFA THERM
Swimming pools & hydromassage Heraklion
---
OUR COMPANY
The Kambourakis swimming pool company was founded in 1980 in Heraklion, Crete.
The company deals with the construction of swimming pools, spas and hammams.
We undertake the electromechanical construction of the swimming pool and its delivery in full operation. We work with the leading companies in the field and are by your side to give you the best solution based on your own needs.
Services:
We offer chlorine in tablets or granules, active oxygen, pH adjustment chemicals, algaecides, flocculants, cleaners, etc.
We also undertake the service of your pool.

we take care of the quality and safety of our products and services,


we monitor and apply the strict requirements of the legislation for the safe circulation of chemical products
with you since 1980!
---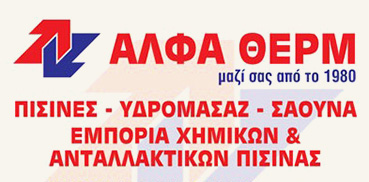 El. Venizelou 81, Heraklion Crete
Tel. : 2810263075, Mob.: 6978345405